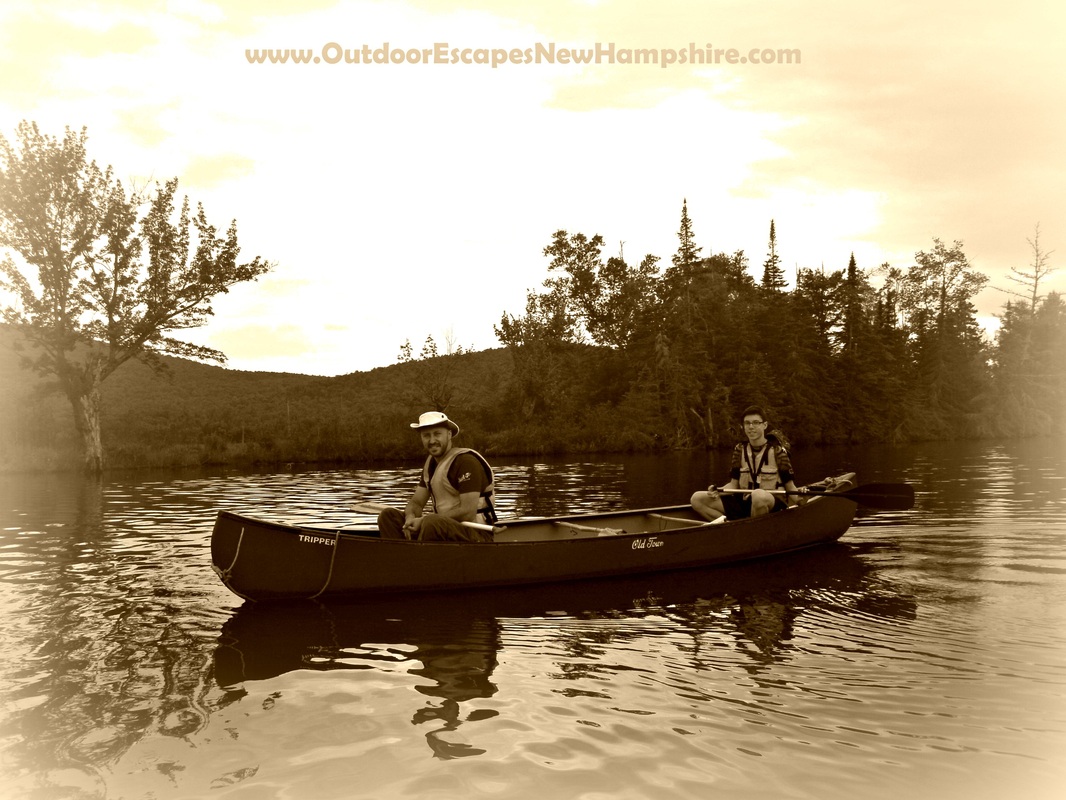 The Assignment
Canoe lesson and nature tour for a dad and his teen boys from Montreal during their RV vacation throughout northeastern United States.

The Experience
For convenience, I transport the three enthusiastic participants from their campground to a section of the Northern Forest Canoe Trail. Along the way, we discuss New Hampshire's history of the land, waterways, people, and wildlife. The population ratios of humans to moose is always an interesting topic.

Canoeing Adventure
It is a cool overcast day with no wind. After some dry-land training, we practice paddling skills on calm waters. Heading up river, the boreal forest is alive with songs and calls of birds: loons, kingfisher, red-winged blackbirds, white-throated sparrow, American bittern, great blue heron, bald eagles, ducks, geese, grouse, wrens, and thrushes. After a long, frozen winter it seems as if summer is finally at its fullest, with fish jumping out of the water catching flies, frogs croaking along the grassy shore, and the needled trees—white pine, cedar, red spruce, tamarack, and balsam fir—blending with the bright green leaves of maple, willow, aspen, and yellow birch.



Moose Call
The boys take turns using a hand-made moose call I brought, but spotting one of these large beasts is by chance. Moose visit natural wetlands during summer to keep cool and to eat the mineral-rich aquatic vegetation. Without any luck from the canoe, there is still hope for this family to find moose, as they will be camping, fishing, and hiking in the area for another few days. Read more about Moose Spotting (coming soon!).

The Outcome
Upon departure I ask the dad and his boys, "What was the best part of today's adventure?" Their answers:

1. "The eagles flying just over our heads,"
2. "Paddling through the narrow grass (between islands)," and
3. "Lunch."

I'm not sure if the last boy meant the food tasted good, or if he enjoyed a peaceful break listening to the birds, or both. We also all agreed that the wild location of the trip was a beautiful place to be. ☼

---
You, too, can experience an adventure into New Hampshire's wild places. For more information on a private Canoe/Kayak Lesson & Tour available statewide, click here:

---

Or, if you'd like to choose from a variety of different activities, overnight options, and durations of trips, click here:

---