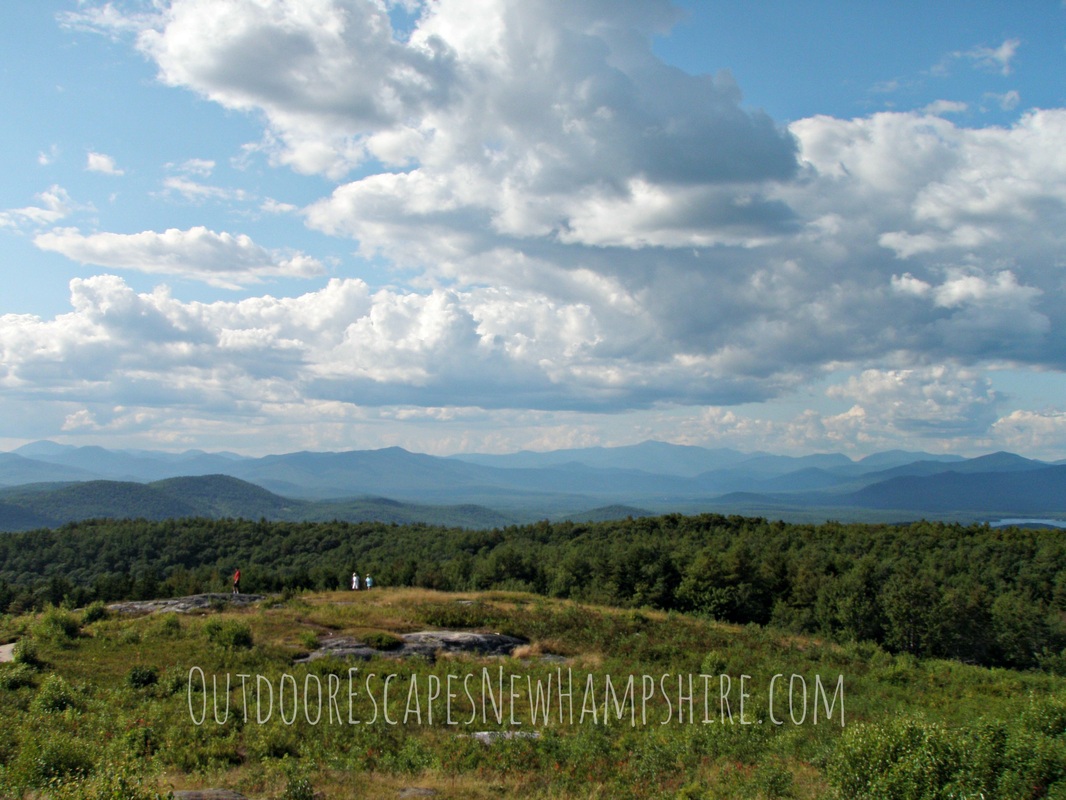 THE BEGINNINGS OF A GREAT IDEA

Back in the 1980's my high school cross country ski coach Dennis Durgin told the team, as we seemed to be at a turning point of success or failure in planning our futures, "It's not what you want to be when you grow up, it's what you want to learn about along the way." That has stuck with me my entire life.

At first I wanted to learn about children, so I did that. Then I wanted to know how to survive and prevent problems while taking trips into the backcountry, so I did that. Then I wanted to get to really know New Hampshire, so I spent years familiarizing myself with history and trails and waterways throughout New Hampshire and gained experience leading groups into the wilderness with other organizations. Lastly, I wanted to learn about running a business, so I did that. Finally, at the beginning of 2003, my business mentor Janet Cote informed me, "You're ready, just start."

I knew I loved teaching skills outdoors and sharing the beautiful natural places that my home state had to offer, and was ready to be my own boss and carve out a career built on my passions. I pulled an all-nighter to come up with the name "Outdoor ESCAPES New Hampshire" with ESCAPES being an acronym for "Every Season Calls for Adventure-Packed Experiences." My business plan in a nutshell: Helping people get into nature with safety, fun, and learning in mind, by leading them on custom guided outdoor adventures.

That spring, after designing the website myself, my first call came from a mother of a three year old who wanted a mountain bike tour while pulling her daughter with special needs in a trailer. I successfully guided them on the Sugar River Trail between Claremont and Newport. Each trip since then has been as unique as a snowflake.


THE GROWING YEARS

During the first year I also guided tours and taught lessons in hiking, backpacking, canoeing, kayaking, survival, moose tours, animal tracking, snowshoeing, and cross country skiing for families and individuals. By 2006, with the addition of a few part-time/occasional guides, we had grown to offer larger group adventures to scouts, church groups, after school programs, and corporate groups. We also added target archery to the mix of activities we offered.

2007 brought lodging/activity packages because we realized that not everyone wants to go camping. 6-Day bicycle tours and hike/bike/paddle packages became popular with vacationers on holiday.

In 2008, mostly because I was pregnant with my firstborn, we added S.U.V. Sighseeing and Easy Adventure Tours for visitors who want to experience N.H. by road, which has also become popular, especially for springtime moose tours and autumn foliage. But I do remember guiding three particular multi-day adventures that year. One was an overnight snowshoe/cross country ski tour to a yurt, another a 3-day kayak-camping trip portaging around Errol Dam and paddling through the Errol Rapids (Class III at five months along), and another a 3-day canoe-camping & survival course along the Connecticut River in the rain between lightening storms. Ahh, great memories.


What about the participants? They come from all around the world and from all walks of life. Our guides have learned to understand English with about a dozen different accents. Folks have come from New England and just about every other U.S. state--including Hawaii, as well as from Canada, Mexico, Panama, Dominican Republic, Brazil, U.K., Germany, France, Norway, Russia, India, Japan, Australia, and New Zealand, to name just a few. Beforehand, we get to know their abilities and interests and then bring them into the wilderness on land, snow, and water. Most of the time we are the only people out there, surrounded by forests and mountains and an abundance of wildlife. Participants usually mutter, "It's soooo quiet and peaceful," and "Only in America!"

It's now Fall of 2014 and the last trip I guided this week was a Northern Forest Canoe Trail Package with a couple of ladies from the U.K.. It was an Inn-to-Inn tour where I provided transportation for their 4-day trip, which included three days of canoeing and kayaking with instruction on a small stream, a large river, a huge lake, a remote pond, and a Class II whitewater river. At one of the inns they stayed, they also got to enjoy an outdoor hot tub and a horseback ride. All in all, in my opinion, they experienced the best of New Hampshire's Grand North.


ADVENTURES IN THE FUTURE

Looking back at all the people we've served, it's amazing to know that we've given each of them an experience of a lifetime. We have introduced so many children and young adults to the world of outdoor recreation, particularly canoeing, camping, snowshoeing, hiking, and backpacking which, coincidentally, all have historical roots in Native American transportation.

We recently updated our logo to better represent all that we do, and we continue to offer the finest outdoor education in a variety of natural environments. Multi-generational families, couples, individuals, and groups enjoy the company of, and glean skills and knowledge from, our enthusiastic guides, while developing an awareness and appreciation of New Hampshire's past, as well as it's present ecology and culture.

Expansion plans for Outdoor ESCAPES New Hampshire, LLC in 2015 include offering (1) guided fly fishing trips, (2) events targeted to local youth and families, (3) bushcraft courses--building useful tools by hand using materials found on the forest floor for the purpose of becoming self-reliant, and (4) inspiring teambuilding programs for corporations and other organizations. Our team of professional guides hope to get more people of all ages into nature because, well, put simply, it's healthy, challenging, and fun!