Booking Information
Pick an Escape or Event from our menu above (or published elsewhere) and let's get started! First, please know that our small company holds office hours by chance, so kindly allow a few days for us to respond to inquiries. We recommend checking for availability early by phone or e-mail.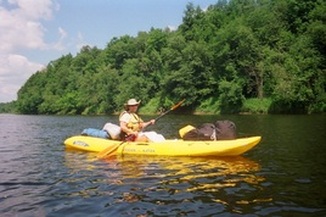 IMPORTANT
Reservation forms and deposit/payment must be received in advance, if possible. Your prompt payment guarantees the reservation (within 7 days of when we become aware of your booking), and may be made in U.S. funds by personal check, USPS money order, PayPal (direct from your PayPal account or to use a credit card), or wire transfer (contact us). Last-minute bookings, if available, require cash payment to guide.

On this page (scroll down): Reservation Forms, Payment, Guide/Instructor Specialties, and our Policies and Procedures. Please call us for Gift Certificates.

---
---
Reservation Forms
Click a button for the appropriate form. If you are purchasing a gift certificate, this step is optional.

---
Payment
Full payment is due when booking within 30 days of ESCAPE.

For advanced reservations, a 50% non-refundable deposit holds your reservation, which must be received within 7 days of booking to hold your space, and the balance is due 30 days prior to the ESCAPE.

CHECK OR MONEY ORDER
U.S. Personal Checks or U.S. Postal Money Orders are payable to:
Outdoor Escapes New Hampshire, LLC, P.O. Box 104, Freedom, NH 03836

PAYPAL
Deposit or Payment for any ESCAPE or Gift Certificate,
from your PayPal account or credit card. Use Buy Now button below, or request an invoice by email from us.

WIRE TRANSFER
We've found that wire transfers through a trusted company works best for international participants. Please contact us to discuss options.

Confirmation

A confirmation packet will be e-mailed (or snail-mailed)--includes directions, pack list, and other pre-trip forms.


Payment Procedure/Cancellation/Refund Policy

No refunds for Quote/Itinerary Requests for Private Custom ESCAPES. For advanced booking (more than 30 days prior) of Private Custom ESCAPES and Events, a 50% non-refundable deposit will hold your reservation date/space. Up to 30 days prior to your ESCAPE, you may transfer your deposit to another date or to another participant, or you may cancel your ESCAPE. By canceling your ESCAPE at this time, you will forfeit your 50% deposit. The balance will be due 30 days prior to your ESCAPE. Reservations made within 30 days must be paid in full. Absolutely no refunds will be given for cancellations within the 30 days prior to, or during, your ESCAPE. In the case of severe weather or other unforeseen conditions (rare), OENH will offer an alternative activity, or may arrange another date for your ESCAPE if available. We customize each ESCAPE for safety, fun, and learning.

---
Guide/Instructor Specialties
Questions and concerns may be directed to the following leaders:
Lucie Villeneuve
Owner/Guide/Instructor
(603) 528-0136
Hiking, snowshoeing, cross country (Nordic) skiing, target archery, calm and whitewater canoeing and kayaking, S.U.V. Tours, backcountry camping (paddling & backpacking) and survival skills, team-building and outdoor leadership skills, youth/family/women's groups and programs, New Hampshire history and nature, basic & single track mountain biking, animal tracking, & sea kayaking.


---

Jeff Barrie
Guide/Instructor
(603) 867-3778
Primitive survival skills (fire, shelter, water, and food), youth/family/men's groups and programs, canoeing, kayaking, hiking, backcountry camping (paddling & backpacking), mountain biking, and snowshoeing.


---

Peter Villeneuve
(P/T Guide/Instructor
(603) 998-4437
Wildlife spotting, single track mountain biking, hiking, snowshoeing, canoeing and kayaking.


---
---
Policies and Procedures
Updated April 23, 2017

Trips, Tours, Instruction, & Presentations (ESCAPES) with Outdoor Escapes New Hampshire, LLC (OENH)
1.
Group size may be limited. See listings for minimum and maximum participation.
2.
Participants will travel in the wilderness with respect for wildlife and the natural environment, and will adhere to all federal, state, local, and private rules and regulations. Alcohol and illegal substances will not be tolerated.
3.
Liability, Safety, and Responsibility: We offer ESCAPES requiring various degrees of fitness. We are not qualified to evaluate your fitness so you must evaluate your fitness as appropriate for any given ESCAPE. If you are overweight, or in poor physical condition, you should consult with your physician before participating in our active ESCAPES. We make every effort to provide you with a fun trip. Your guides will give you instructions before each trip and it is important that you listen and do as they say. You will assume the responsibility for many decisions affecting your safety during this trip. Although every precaution is taken to safeguard you and your belongings, remote wilderness adventure trips involve activities that can be physically demanding with inherent elements of risks and dangers, which are beyond our control. OENH shall assume no responsibility for personal injuries or deaths and loss of personal property.
We highly recommend that you purchase travel, accident, and cancellation insurance. Insurance coverage can help with expenses for the unforeseeable such as lost baggage, trip delays, emergency evacuation, and cancellation due to illness. You may have this privilege through your credit card or another source.
InsureMyTrip
4.
Gear & Equipment: Each participant is responsible for personal gear. Due to New Hampshire's unpredictable weather, we highly recommend bringing everything on your customized Pack List in order for you to have a comfortable outdoor experience for the duration of your trip. Your gear will be inspected prior to each trip. If you are missing something, your trip may be cut short. Our goal is safety, fun, and learning, and we believe in packing light, but right, so please take the Pack List seriously in order to prevent problems and minimize risks. You may also be asked to carry some group gear, such as tent, cook kit, food, emergency kit, etc. Recreation equipment rentals are available and are the responsibility of participants during your ESCAPE.
5.
Food and Water: We do our best to provide you with New Hampshire made meals, appropriate to the chosen activity. Any dietary restrictions and allergies should be noted on the Medical Form. Water acquired in the wilderness for drinking purposes is treated first to prevent illness. We use low-impact practices and take out everything we carry in. Picnic lunches on day trips are usually picked up at a local gourmet deli or grocer in the morning. For multi-day trips, your adventure guide, lodging establishment, and local restaurant may provide food and prepare scrumptious meals.
6.
Each Participant (and parent/guardian of each Participant under 18) must complete and sign a "
Participant Agreement, Release, and Acknowledgement of Risk
" form.
7.
Each Participant (and parent/guardian of each Participant under 18) on full day and longer trips must complete and sign a "
Medical Form
." Certain trips will require a doctor's approval.
8.
Youth under age 18 are allowed with an accompanying adult. Youth groups must have adequate supervision coverage.
9.
If pets are allowed to join an ESCAPE there will be a fee and travel will be limited to certain areas.
10.
Helmets must be worn when bicycling.
11.
PFDs (Personal Floatation Devices) must be worn when paddling canoes and kayaks.
12.
Safety glasses must be worn during archery and range rules must be obeyed.
13.
Safety glasses must be worn during bicycling.
14.
A New Hampshire fishing license is required during our guided fly fishing. You may obtain more information at
www.fishnh.com
.
15.
We reserve the right to include or omit any of the activities/topics listed on the itinerary due to participant interest, availability of materials, inclement weather, or other factor that makes them impractical or unsafe.