Adventures with Dogs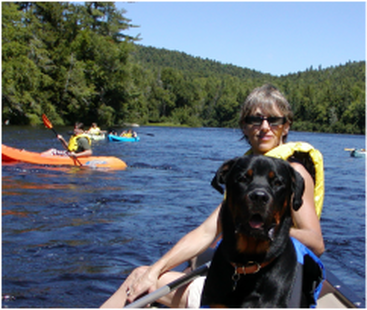 The lady pictured here is paddling with her 5 children and their new dog, getting away on a multi-day camping adventure a year after her husband had died in a motorcycle accident. Spending time in nature with a dog is healing.
Custom ESCAPES--Get into nature with safety, fun, and learning! Our friendly, professional guides will lead all of your family members, including dogs, into dog-approved wilderness areas of New Hampshire. Choose one or more days of activities that include hiking, canoeing, kayaking, snowshoeing, Nordic skiing, and survival skills courses. Enjoy camping under the Milky Way, inn-to-inn tours, or day trips from a basecamp such as a tipi, yurt, cabin, or B&B. Dog owners are responsible for their dog's food and water, as well as doggie backpacks and PFDs (life vest). Please be sure to read the rules and considerations below regarding wilderness ethics and low impact practices prior to your ESCAPE.
Call us to check for guide availability year-round and get an itinerary/quote for your Custom ESCAPE. Let's start your adventure!
​
Booking Info
​
Protect Your Pet ~ Protect Our Resources
1. Be considerate of other people, especially at gathering places.
2. Dogs must be under verbal or physical restraint at all times.
3. Do not allow your dog to chase wildlife.
4. Carry a leash not longer than 6 ft. & use it when around other people, sources of drinking water, & sensitive vegetation/alpine areas.
5. Bury your dog's waste as you would your own.
Reasons for Regulating the Presence of Pets
• There is a possibility of exchange of diseases (including lime disease from ticks) between domestic animals, wildlife, and people.
• When a loose pet chases a squirrel, raccoon, bear, or moose, the wild animal's ability to survive is threatened, and when it is threatened, it can react aggressively.
• There is a strong possibility that your pet could become prey for coyote, owl, or other predators.
• Dogs, the most common traveling companion, are natural predators that can harass or even kill native wildlife that is protected.
• The "scent of a predator" that dogs leave behind can disrupt or alter the behavior of native animals.
• Pets can be hard to control, even on a leash, within confines of narrow trails and can trample or dig up fragile vegetation.
• Some hikers may be allergic to dogs, or are offended by their friendly greetings.
• Dog and cat feces add excessive nutrients & bacterial pollution to water, decreasing water quality & can cause human health problems.
• Finally, lost domestic animals sometimes turn to preying on wildlife and must be destroyed.
​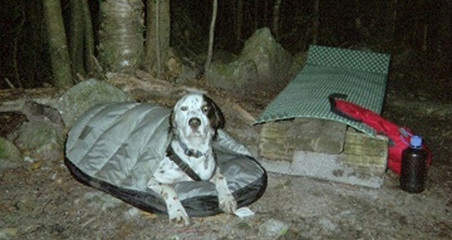 Dog on a backpack trip. Carries own pack with food, water, collapsible containers, and sleeping bag.
Pet Services and Products
Dog-Friendly Lodging for People
http://www.bringfido.com/lodging/state/new_hampshire/
http://hotels.petswelcome.com/new-Hampshire/
Boarding, Kennels, and Pet Sitting
Kenney's Kennel
Alexandria, NH
Take a trip, not a guilt trip! Vacation for your pet. Personal handling and exercise.
Boarding, Grooming in one. Relaxing Country Setting.
15 Gove Road (off Welton Falls Rd), Alexandria, NH 03222 (603) 744-0222
Lakes Region Pet Resort
Center Harbor, NH (1.9 miles from the downtown lights in Meredith on Route 3 North/25 West)
Where your pets vacation while you're away--Boarding for Dogs & Cats, Day Care for Dogs, and Training.
89 Daniel Webster Hwy, Center Harbor, NH 03226 (603) 250-8001
Four Paws Inn, LLC
Meredith, NH (about 6 miles from Exit 23 on I-93)
Doggie Day Camp, homestyle boarding, grooming. Dedicated to loving care & personal attention.
"Where hugs and kisses are free". Open 7 days.
200 Parade Rd, Meredith, NH 03253. (603) 279-1197
Camp Wags
Alton, NH
– A Pet Resort
Down By The Bay Pet & Home Sitting
--
Alton Bay, NH
The Purrfect Inn
-- Gilmanton, NH
Littleton Pet Center & Kennel
– Littleton, NH
All Dogs Inn
– Manchester, NH
Sendaishi Pet Resort
– Manchester, NH
Woodlawn Kennels Pet Resort
– Warner, NH
Shopping, Etc.
Four Your Paws Only
North Conway, NH
Store, bakery, play group, and more services for dogs.
Conway Humane Society
Conway, NH
Adopt a pet.
Recipe for Skunk Odor Removal
A skunk's defense mechanism is to spray an oily musk on whatever it sees as a
threat, usually dogs. This strong smell can last for months, but here's a great
remedy. This recipe consists of only three common household items.
The ingredients are
1 Qt 3% hydrogen peroxide (2 one-pint bottles)
1/4 cup baking soda ("Arm and Hammer")
1 tsp. liquid soap ("Softsoap" or "Ivory Liquid")
For very large pets one quart of tepid tap water can be added to enable
complete coverage.
All you need to do is wet down the dog with a hose, mix the ingredients
together in a plastic container, and then slowly pour the mixture over the dog
while rubbing it into the fur. Leave the solution on about 5 minutes or until
the odor is gone. Some heavily oiled areas can require a "rinse and repeat"
washing. After treatment thoroughly rinse your pet with tepid tap water. Pour
the spent (and any unused excess) solution down the drain with running
water. The dog should be odor free.
Although the ingredients are not dangerous, care should obviously be taken to
keep the solution out of your dog's eyes, ears and mouth. Also remember that
hydrogen peroxide can bleach clothing and hair, however, some dog's fur never
changes color or fades.
Credit for this remedy goes to chemist,
Paul Krebaum
, of Molex Inc. in Lisle, Illinois.
The above listed ingredients were published in the August 1995 issue of
Popular Science
.