"Wilderness is not a luxury but a necessity of the human spirit." Edward Abbey
Everyone loves an adventure in New Hampshire!

Join us all year for custom guided adventures, nature/history/culture tours, outdoor education, and special events. Anything is possible! Just imagine...

...Paddling along the Northern Forest Canoe Trail and seeing moose feeding along the shore.
...Hiking the Cohos Trail with mountain views in three states plus Quebec..
...Backcountry camping under a dark, starry sky and seeing the Milky Way.
...Observing and photographing natural landscapes throughout the four seasons.
...Biking a forest road along a cascading stream where you can take a dip to cool off.
...Cross country skiing from a tipi or yurt in the quiet of winter and finding wild animal tracks.
...Taking an Autumn sightseeing tour in the White Mountains, stopping at waterfalls & ice cream.
...Kayaking by day on thrilling whitewater, and resting by night at a cozy bed-and-breakfast.
...Collecting and preparing wild edible plants and medicinals.
...Learning primitive wilderness survival skills and bushcraft in the North Woods.
...Practicing outdoor leadership skills on a multi-day backpacking, canoe, or snowshoe trip.
...Discovering the arts and skills of target archery and animal tracking.
...Studying moose behavior, bird songs, tree identification, and temperate rain forest ecology.
...Navigating with a map & compass on an orienteering course
...Geocaching with a GPS (like a treasure hunt with battery-operated Global Positioning System).
...Exploring & learning ways to safely enjoy the outdoors with your children.
...Participating in a special event to learn different methods of camp cooking and shelter building.
...Experiencing the best of wild New Hampshire with our expert guides and instructors!


Our Expert Leaders Offer:

Wilderness adventures (land, water, snow)
Scenic tours (sightseeing, nature, history, culture)
Outdoor education skills & knowledge (backcountry living and travel, survival, New Hampshire nature, outdoor recreation)
Adventure/lodging packages (tipi, yurt, cabin, B&B, Inn-to-Inn)
Custom adventures (individuals, families, groups)
Events (general, youth, women/girls) - our most popular year-round lessons are Intro to Backpacking and Northwoods Survival Skills and Primitive Survival Skills.


Professionally guided outdoor adventures and lessons in New Hampshire provide safety, fun and learning for individuals, families, and groups of all ages, and are available statewide in all of New England's beautiful seasons. Join a group with our

Events

, or we can customize for participants' interests and abilities with our

Private Guided / Custom ESCAPES

of any duration, whether you'd like a leisurely tour or some intense outdoor training. We also specialize in special needs travel, and if you don't want to drive to New Hampshire, we have

Carless Adventures

!

More reasons to hire a guide.

Celebrating 13 years of adventures!

Your Awesome Experience

Upon registration, you'll receive directions to meet your guide(s) and a pack list of items to bring and wear to be sure you are comfortable during your ESCAPE. We usually start one-day adventures between 8 & 10am and end around 4pm. We also guide sunrise, sunset, full moon, and multi-day leisure tours and educational trips.

On

Private Guided Custom ESCAPES

, your recreational tour/lesson can include survival tips, natural and cultural history talks, meals, rental equipment, scenic and wildlife viewing, and photo opportunities. Multi-day trips also include your choice of remote camping, yurt, tipi, bed and breakfast, and/or country inn. Exact location is guide's choice depending on trail/water/road conditions while matching your interests and abilities.

For a group experience, we also offer events on our

Calendar

page.

Explore the

Activity Types

and

FAQs

pages for more information. Then go to the

Booking Info

page to find out how to sign up for an event or request your custom adventure--be sure to tell us what you want to get out of your experience.
Featured Vacation Packages on the Northern Forest Canoe Trail
Meet Our Guides
Our guides at Outdoor Escapes New Hampshire offer a variety of custom guided adventures: hikes, canoe and kayak trips, sightseeing and moose tours, bicycle tours, mountain biking lessons, and winter trips such as snowshoeing, cross country skiing and winter camping. Additional outdoor education opportunities are available at carefully chosen New Hampshire locations to learn about nature, history, culture, bushcraft, backcountry and survival skills, archery, camping, and wilderness trip planning. We also lead team building activities for youth and corporate groups. Join us for a day, a weekend, or weeklong vacation holiday to get into nature.

More about us...
Testimonials
Click photo for more participant comments.
"Appreciated how knowledgeable our guide was about the area. Pete was also very sociable and easy to speak with. He was very considerate and made it a point to tailor our activities to our abilities and our desires.

We loved how Pete was able to help us spot a lot of different wildlife and shared out of his own personal experiences and adventures. We feel like we made a friend on this adventure and hope to see you all again!

We will definitely share our adventures with our friends and family and recommend your services to anyone who really wants a fun getaway. New Hampshire is awe-inspiring and we were blessed by our time there! We return to our busy lives refreshed and with new perspective on life. -- Mark and Connie, Hawaii

---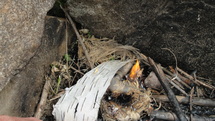 "I went on a (private) 2-day camping/basic survival skills training trip with Jeff. We covered basic "clean" camping, tent & tarp setup, knot tying, building a fire place and making fire. We also covered walking by compass, how to find the way back to the trail when lost during a hike, and how to find water. Jeff started a fire using a bow drill and taught me how to do it - it is difficult, believe me. I'll have to practice it at home. The next day, we built a shelter (from sticks and leaves), and made a fishing spear. The campsite was on a lake, which was very pretty and good for swimming. Time really slows down in the woods, yet it is never boring. There was always something to do. I'd recommend Outdoor Escapes NH highly. My only regret is that the trip wasn't longer." --Tatjana, Boston, MA
---
"People are designed to be connected to nature. Period.
When we reconnect and get our operating system re-booted, magic happens.
It's designed that way. Healing occurs. Deep understanding emerges. Health and vitality increase.
Creativity comes to the fore. Leadership–organic, authentic and potent–is the result."
Jon Young
---
| | |
| --- | --- |
| View/Print our brochure to share: | |