FAQs
About Visiting New Hampshire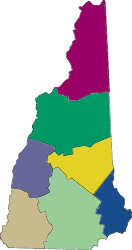 Q. How do I sign up? What food is provided? What's the cancellation policy? Do I need a helmet? Do I need additional insurance?
A . Please read our Policies and Procedures to find all kinds of information, such as "our prices listed are in US$."
more-->
Booking Info & Policies and Procedures
Q. What about the weather?
A . We go rain or shine, so please bring everything on the pack list given to you. If the weather, trail, or water conditions are such that would not be conducive to safety, fun, and learning for the chosen activity (Plan A), we have Plans B-Z.
more-->
Weather Information and Forecasts
Q. Who are your clients?
A. Participants include:
Individuals & Families
Children & Teens
Tourists from around the world
Summer Camps
Park and Recreation Depts.
Home Schoolers
Boy Scouts, Girl Scouts, Girls, Inc., 4-H, and other youth groups
Adult Education Programs
Family Gatherings
Private Schools
Public Schools - in-school and after school
Colleges and Internship Programs
Fairs and Festivals

Corporations & Businesses for company outings, get-a-way incentives, and leadership and group building

Q. Do you offer gift certificates?
A. No, because participants are happier when they work with us directly. When they tell us their interests and book with us directly we are better able to provide exactly what they want.
Q. How can I prepare for this adventure? What fitness levels are your adventures? What do I need to bring?
A. Having an adventurous attitude, understanding the physical demands, and using the pack list.
more-->
Personal Trip Preparation
Q. How do I get to New Hampshire?
A. Car, plane, bus, train--and we'll give you specific directions to meet your guide, including Carless Adventure destinations.
more-->
Driving and Transportation in New Hampshire
Q. Can I print your trip listings and forms?
A. Yes, here's a page with the entire list of
printables
.
Q. What will the accommodations be like for multi-day trips?
A. Wherever possible, locally run inns and bed and breakfasts, that are unique to the area we are touring, will be 3.5 + stars while still making our tours affordable. We also carefully choose tipis, yurts, campgrounds, and remote backcountry camping sites appropriate for the experience and activities our participants are seeking.
Q. Can I bring my dog along? Is there a place nearby that I can leave my dog?
A. Yes, and yes.
more-->
Dog-Friendly Adventures
Q. Are there any bugs that I should be worried about?
A. May through September.
more-->
Bugs in N.H.
Q. Can I rent recreational equipment?
A. We provide rentals only to participants on our guided adventures.
more-->
Equipment Rentals
Q. Do I need to wear a wetsuit for paddling activities?
A. If you are from the Tropics, you'll want one. All others, only November through mid-May or June.
The warmest water is in August. Ice covers most water January through March, except the seacoast.
Q. Is there any nearby lodging?
A. Yes. We've had personal experience with these facilities listed by region on our
links page
.
more-->
Lodging in New Hampshire
Q. Do you have a guest comment card I can fill out?
A. Yes, please complete our online
Participant Evaluation Form
.
---