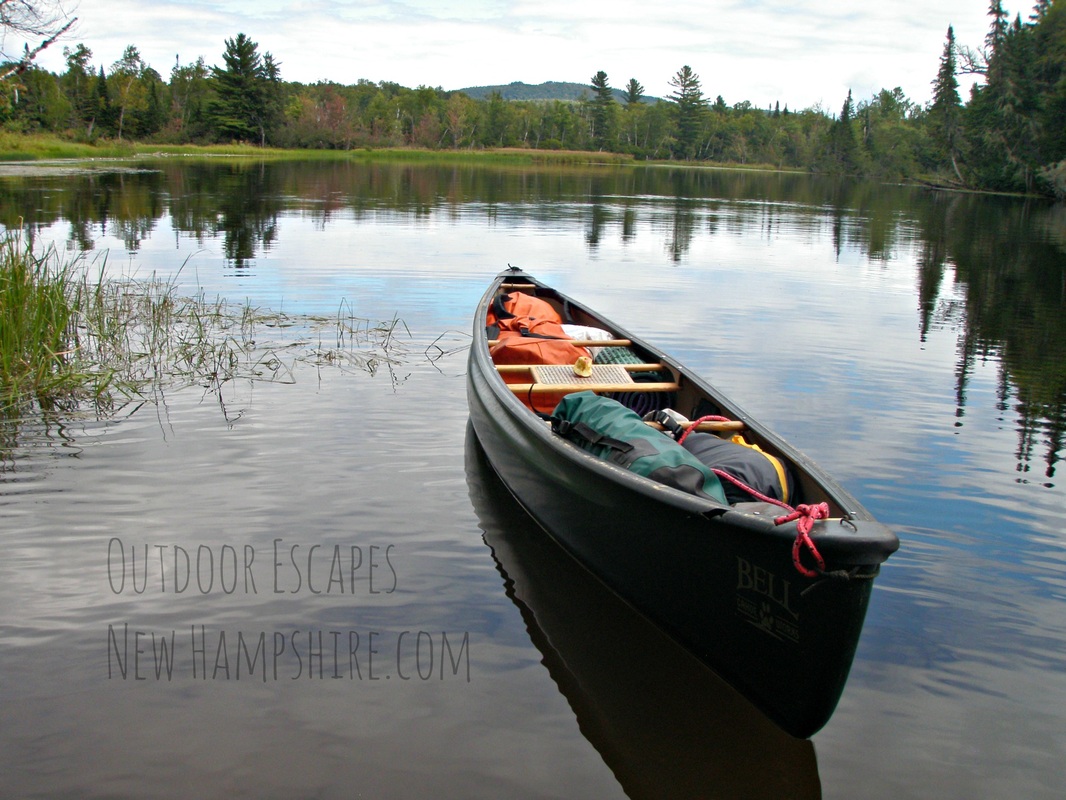 One of my goals in life is to help my little children (and others) paddle as many lakes and rivers as possible. Earlier this summer I went kayaking with my family and friends on New Hampshire's largest lake, through motorboat traffic in a highly settled area on Lake Winnipesaukee, which is centrally located in New England. That noisy, stinky, and unnatural experience inspired me to think of the following reasons to get into a canoe or kayak and paddle into the wilderness.

Paddling is an opportunity where you can:

1. Get really close to nature.

2. Learn a lifelong, healthy, recreational sport.

3. Pass on the tradition of wilderness travel.

4. Use human power to transport yourself and anything else that fits in your boat.

5. Listen to the silence of nature.

6. Breathe deeply and smell the fresh air of the forests.

7. See all the shades of green in summer.

8. Watch animals, birds, bugs, and fish hunt and collect food.

9. Enjoy the wildflowers along shore and on the water.

10. See nesting ducks, loons, geese, osprey, and bald eagles through binoculars.

11. Get fit.

12. Participate in healthy outings with friends, family, and co-workers.

13. Raft up and have a picnic lunch in the middle of "nowhere."

14. Prevent pollution--no gas required.

15. Take a vacation and paddle a long river, camping on the shore each night.

16. See lots of stars and the Milky Way.

17. Watch the Northern Lights dancing in the sky.

18. Catch fireflies.

19. Hear the call of a loon any time of day or night.

20. Witness moose walking to the water's edge to feed on aquatic vegetation.

21. Watch a bald eagle swoop down over your shoulder to grab a duckling and take it to a tall pine tree or sandy shore to eat.

22. Feel the clean-air breeze against your skin.

23. Put your rainsuit on and hear the pitter-patter of raindrops on the water's surface.

24. Wake up to see an osprey diving for fish through the morning fog.

25. Take lessons to learn how to paddle in both swift water and wind currents.

26. Experience the thrill of a whitewater ride.

27. Meet like-minded people on the water or in camp.

28. Gaze at fall foliage as it mirrors on the water during autumn.

29. Take amazing pictures and videos.

30. Keep a journal or even write a poem, song, blog, or book about your experience.

31. Sit around a campfire and share amazing stories.

32. Bring a guitar, drum, or harmonica and hear it echo into the evening.

33. Compare old-fashioned and conventional styles and uses of boats, gear, equipment, etc.

34. Learn traditional ways of North Woods living, as the Natives once survived here (aka bushcraft).

35. Live simply.

36. Find your own drinking/cooking water and make it safe.

37. Forage for wild edibles.

38. Learn various camp cooking methods.

39. Spend time preparing awesome meals.

40. Build a shelter using natural materials.

41. Figure out how to set up a modern tent and a wind-proof kitchen shelter.

42. Discover game trails.

43. Investigate animal tracks and signs.

44. Detect bird calls and animal sounds.

45. Deal with all kinds of weather.

46. Take a lesson--learn paddle skills and how to navigate and communicate with your party.

47. Hire a guide to take care of all the logistics and lead you into the unknown.

48. Get really good at packing light, but right, for any trip.

49. Read and scout a river.

50. Portage around beaver dams and log jams.

51. Float along the water grasses and lily pads and see dragon flies, damselflies, bees, butterflies, frogs, turtles, snails, and red-winged blackbirds.

52. Relax and feel a deep sense of freedom that comes from putting yourself in a natural spot.

53. Challenge yourself both physically and mentally to do something unfamiliar for the first time, such as exploring a remote pond, taking up whitewater kayaking, and camping overnight in a boreal forest.

54. Expect the unexpected, such as river otter greeting you in the morning as they collect mussels and eat their breakfast at the foot of your campsite.

55. Develop a haunting sense of history, imagining those before us living near, and traveling on, the great waterways of the past.

In summary, the more time you spend in an abundance of nature, being a part of it, the more you benefit from it. Most likely, you will go back home with enthusiasm and a new zest for life, and maybe even wonder how you can get back into nature again, sooner than later.